China-Japan-Korea Wetland School Program
in Zhalong, Qiqihaer

---
  "China-Japan-Korea, Wetland School Program: Wetland Awareness Campaign for Children and Teachers in Three Nations" was organized by Wetlands International-China in collaboration with Wetlands Korea and Ramsar Center Japan at Zhalong Nature Reserve, Heilongiang, China on 30th July - 3rd August. The Zhalong Wetland, Ramsar site, is a very large wetland which has an area of two hundred and twenty thousand hector. The site is a habitat of diverse kind of birds including Red-crowned Crane.
  Fourteen children participated in the Wetland Exchange Program from China, Korea, and Japan.−ten from China; Zhalong, nine from Korea; Pusan, Seoul, Ansan, and five from Japan; Shiga, Yamaguchi.

| | |
| --- | --- |
| | |
| Children from three countries, China, Japan, and Korea give presentations on their local wetlands at the room of Zhalong Nature Reserve. | Presentation by Mika Teraoka and Saki Yamamoto; The Village of Crane-Activities of Crane Conservation by Yashiro Elementary School (Japan, Yamaguchi). |
| | |
| Presentation by Lee Do Hwan; Today's Lake Shiwa (Korea, Ansan). | Presentation by a student from Zhalong middle school. (China, Heilongiang). |
| | |
| Presentation by Mr. Daisuke Nakamura; Jointly Project on Environmental Education by School (Japan, Shiga). | Presentation by Mr. Hideto Hujimura; The Village of Crane-The Circumstance of Cranes in Yashiro (Japan, Yamaguchi). |
| | |
| --- | --- |
| | |
| Students of Zhalong Middle School played musical instrument to welcome the participants. | Participants received a very warm welcome from Zhalong Middle School. |
| | |
| Opening ceremony on establishment of Wetland Experimental School of Zhalong, Qiqihaer. | Mr. Chen Kelin, Director of Wetlands International-China and Headmaster of Zhalong middle school. |
| | |
| Children participate in The Drawing Event based on "Wetlands and Cranes" at the exhibition booth. | Children from three countries; China, Japan and Korea, are having a great time together through their works. |
| | |
| Exchanging their works as token of their friendship.                     | At the end of the Drawing Event, every child participated in received an award. |
| | |
| --- | --- |
| | |
| Ceremony on Zhalong Nature Reserve to join "Shorebirds Network Site of East Asian-Australasian Flyway. | Prof. Woo-Shin Lee gave his speech at the ceremony. He talked about the conservation of migratory birds and importance of international cooperation. |
| | |
| Early morning of Zhalong Nature Reserve, a cheer go up from participants when Red-crowned Cranes fly above them. | Trying to come closer to a crane with gingerly steps. |
| | |
| At Zhalong Nature Reserve, children from Shiga (Japan) show how to monitor water quality of wetlands. | Showing the result of examination of water quality. |
| | |
| --- | --- |
| | |
| At the party, participants enjoyed dancing and singing. Children from Yamaguchi, Japan performed their traditional crane dance. | Korean participants sang local folksong together very warmly at the party. |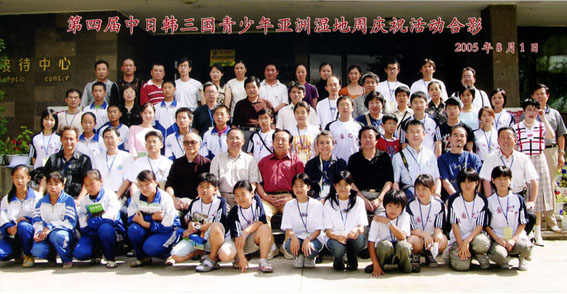 See you next year in Lanzhou, Gansu !!